Group Team Building Activities in Tokyo, Japan
At Team Music, Tokyo, Japan, we provide music-oriented as well as fun Japanese group activities, games and ideas for 20-100pax. No musical experience needed at all. Browse through our list of team building programs to choose the ideal corporate team building activities for your organization!
Looking for a Team Building consultant, vendor, specialist or ideal fun group activities in Tokyo? Looking for the best things to do in Tokyo for big groups? Looking for what's new in Tokyo 2019?
Team Music, Japan provides corporate clients the latest indoor music team bonding and team building innovation – BANDINC® . The Ultimate Corporate Rock Band Experience. This transformational program spans half-day to full-day corporate retreats for 10-350pax. This corporate activity has ran for 200 sessions, 8,000 participants.
This is a great proposition for any corporate team organiser or human resource managers, searching out for the best corporate event ideas and fun activities for their colleagues, here in Tokyo – Japan.
BANDINC® is flexible as a Collaboration or Competition program. With absolutely no musical experience is required at all, our participants play 2 songs as a band in 3 hours. The 7 musical instruments include Drums, Bass, Guitar, Keyboard, Ukulele, Percussions, Singing. We have customised BANDINC® to include CantoPop music, Mandarin Pop music, English Pop music, in order to suit the corporate participants here in Hong Kong.
We train corporate bands, focussing mainly on 4Cs – Clarity, Collaboration, Change management and Commitment. Our musical debrief addresses corporate concerns such as leadership agility, team chemistry and resilience, all common to the world of bands and business.
Clients include Facebook, Google, Linkedin, UBS, Gartner, Datalogic, GlaxoSmithKline, Gemalto, Roche, Johnson & Johnson.
TEAM MUSIC JAPAN
Phone: Contact Daniel LINE ID: teammusic.com I  Eugene LINE ID: Enegue23
Email: daniel@teammusic.co I eugene.tan@teammusic.co  I  
Recommended Studio Locations in Tokyo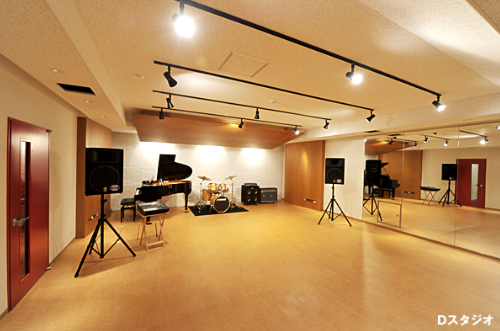 EXIA STUDIOS
Japan, 〒106-0044 Tokyo, Minato, Higashiazabu, 1 Chome−8−4 パークハビオ麻布タワーB1F
〒106-0044
東京都 港区 東麻布 1丁目 8番 4号
ベルグレイヴィア麻布B1 
Otoheya Square
4 Chome-4-13 Takadanobaba, Shinjuku, Tokyo 169-0075, Japan
〒169-0075
東京都新宿区高田馬場4-4-13
アルプスビル高田馬塲B1F
Trusted by Corporate Companies.