[rev_slider alias="corporate-events"]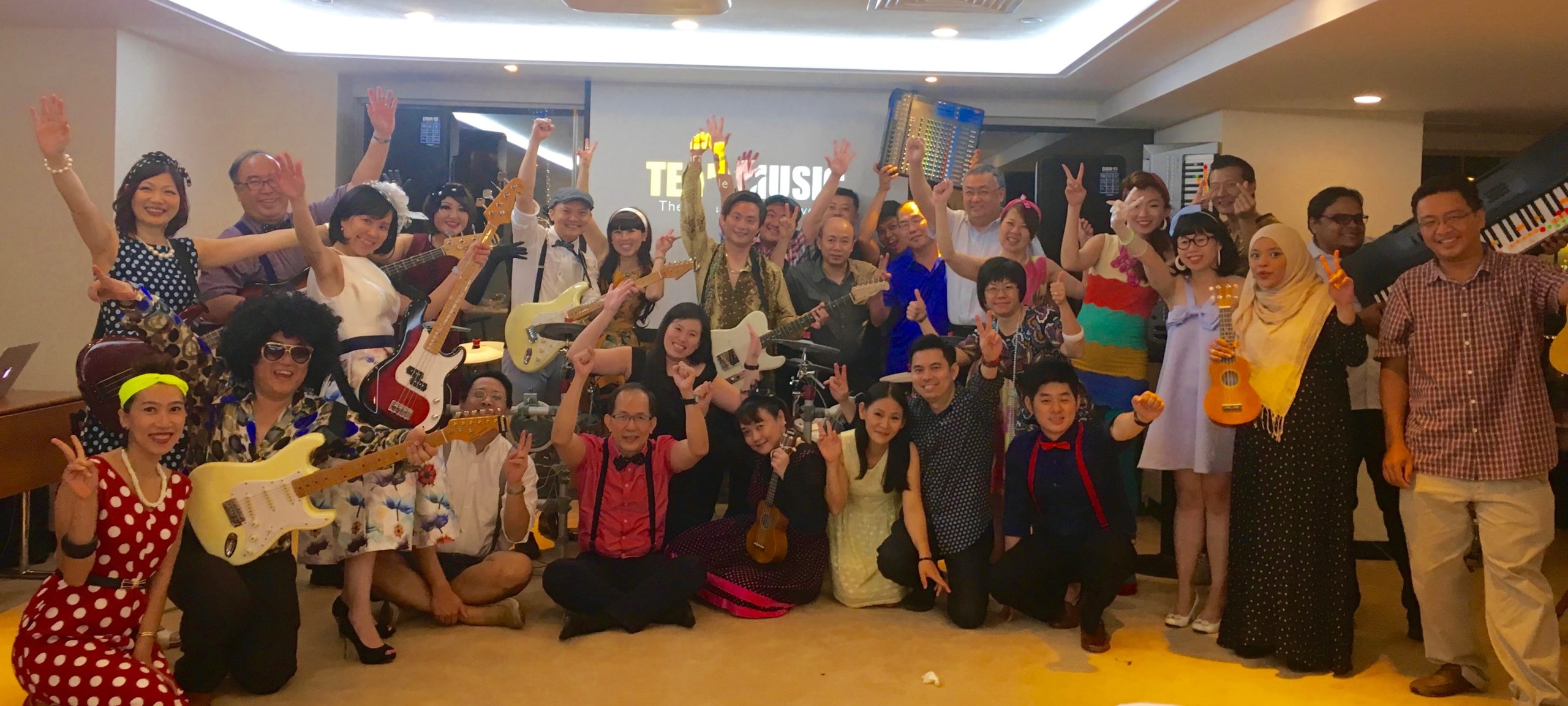 The Beginner's Guide to Planning Successful Corporate Events in Singapore
Dinner and Dance events have become trendy again in corporate events in singapore, and for good reason! People love to have good food, drinks, and entertainment; they also love having a reason to be glamorous and play dress up. 
These events straddle that magical balance between being a relaxed and natural environment and having business overtones – which encourages people to network at ease.
On the flip-side, they call for the highest level of clarity, collaboration and commitment from the organizing team. So the question is this: how can we plan a successful Corporate Events in Singapore?
What is Corporate Events?
Corporate events are organized by the corporate companies for their employees, clients or stakeholders. Depending on the cause of organizing events, the gathering can be a small or a large one. Corporate events like seminars, conventions, and conferences are usually a large gathering as the reason for organizing the events might be a social cause, awareness program, educational courses, counseling, discussions regarding productivity and achievements, etc.
Corporate events like retreats, holidays, private concerts, corporate dinners are organized for a few members of the company. Corporate events are important for team building and team bonding. This keeps the employees motivated, helps to build confidence and effective relationships between the employees and the company.
Corporate events also lead to organizational development and unite people by maintaining a friendly working environment. Corporate events are also sponsored by corporate companies to celebrate success or to promote business. These events are very essential to encourage professionals, strengthen team interaction and recognition.
Let us now look at the different aspects of planning a successful Corporate event in greater detail.
 1. Know Your Client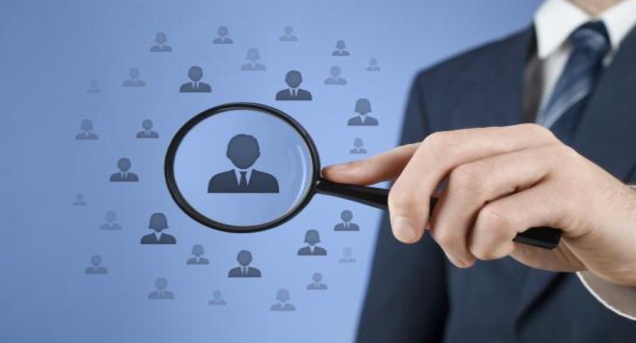 This is a crucial first-step towards becoming an event planning wizard.

All your preparations must be done according to your target audience.
For example – it would be fine to introduce a moderate drinking or ice-breaking game to rev up social engines for the night if it was a corporate party, but this should probably be avoided if the event called for more serious undertones.
2. Plan Early For Corporate Events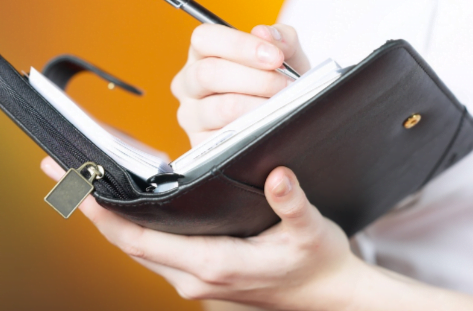 The optimal time-line to give yourself to ensure the success of an Corporate events is to plan 2-3 months ahead.
This is so that you can:
Establish the event's goals and objectives

Select the actual date

Identify potential venues

Develop an event master plan

Obtain cost estimates – venue and equipment rental, food and beverages etc

Recruit your event committee, overall event manager, sub-committee members

Ensure roles and responsibilities are clearly defined for specific tasks – includes VIP coordination, printed material design, online/social media etc

Create and execute an exciting publicity plan and branding for the event

Identify and confirm entertainment options

Identify and contact potential sponsors and partners




3. Assemble a Team for Event Committee
It takes a team to get the entire DnD going – from the initial planning phase all the way to the actual event day and the follow-up post event.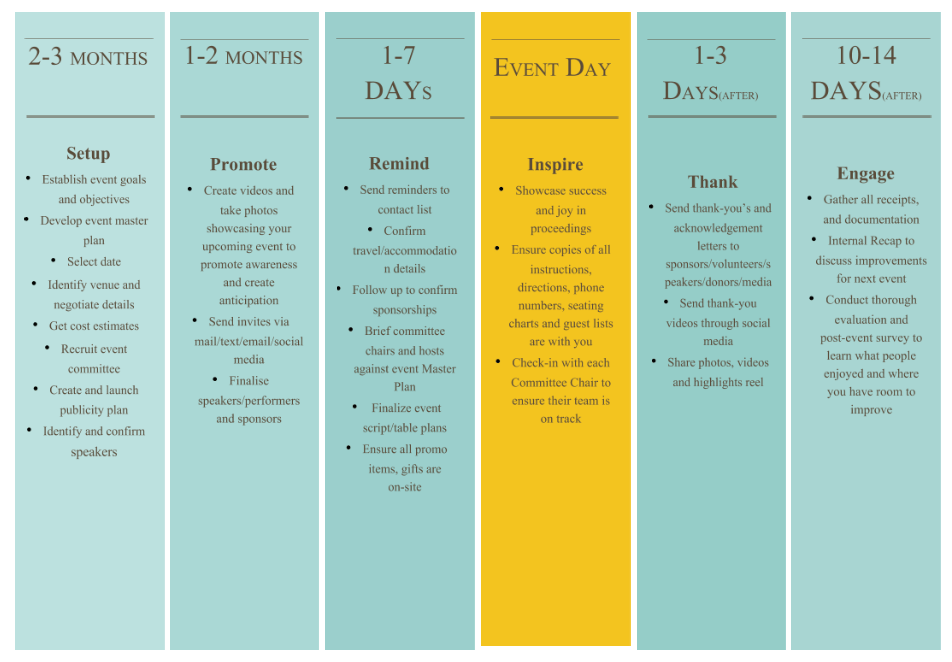 4. Establish Total Budget For Your Corporate Events in Singapore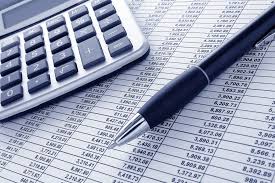 Keeping to an event budget is crucial to planning success. Four main areas to allocate the bulk of your budget would be:
Catering and Drinks

Entertainment
Other things to consider
:
Transportation Costs of Guests to Venue

Decoration

Hospitality Staff

Event Management

Event Insurance
At the start of your planning process, research how much money you'll need for each of the above and distribute your budget accordingly. This will help you manage each section individually.
5. Ensure Clarity of Purpose
Dinner and Dance events are commonly held as a way to celebrate key corporate events, achievements or successes.
Now, whatever this purpose is, it is important to have it resonate throughout the entire event – from the way invites are sent right down to speeches given throughout the event, and the entertainment being provided.
6. Choose a Good Date For Corporate Events-
Look out for major holidays, making sure that you don't schedule the event too near an important holiday like Christmas, as it may mean a lighter wallet and a lot of empty seats.
Also check for same-day popular events that may be going on – you don't want your guests to have to decide between your event and another event that's happening at the same time!
7. Choose a Theme
When choosing the theme, think about how it will impact other decisions you'll be making down the line.
Event themes will inform the style of food and drinks that are provided, the dress code and sometimes even the venue of choice – all things that you need to consider in your overall budget.
If appropriate, have some fun choosing the theme! Create an experience for your guests that is at once immersive and unique – be inventive and creative in your decoration, culinary and entertainment choices.
Some popular theme choices:
Alice in Wonderland

Hollywood/Celebrity

Halloween

Medieval
Now for more formal events, you may simply choose to employ a traditional 'black tie' theme. This theme would be perfect for all purposes, allowing guests to dress up and event decor to be glamorous, all of which create an appropriate business-like environment.
BANDINC® Team Building & Performance
8. Choose an Appropriate and Exciting Venue For Corporate Events in Singapore
Since expense is a given in a company for Corporate Events, you may as well find a private event space that would impress the guests attending. The choice of venue speaks volumes about the caliber of the event – first impressions are always important.
Having said that, there are other factors to making this decision. Consider how the venue relates to your theme. For example, if you are going for a luxuriant black tie theme, find a dinner venue, or cafes with private rooms that emit a sense of glamour and class.
You will also need to consider whether the venue is easily accessible to not just your guests, but your suppliers too. Consider whether there are loading and parking spaces near by – this helps ensure that the loading and unloading of equipment can go smoothly.
Finally, find out if the venue offers any extra services aside from room hire. Some event venues provide catering packages, event insurance, or even hospitality staff. Decide whether it's within your budget to employ the venue in managing some of these aspects – it could make the event easier to run, as well as make the budget easier to manage.
9. Decide on Menu and Catering of Corporate Events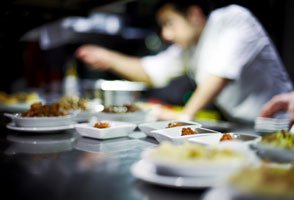 It is essential to put a lot of thought into the food menu for the corporate events. Be sure to include a choice of courses, together with options for those with special dietary needs, for vegetarians for example. It would be great if you could have guests RSVP with their menu choice in advance, so that each course is optimally prepared in terms of amount.
You would also have to decide on the caterer for the event. Outsourcing catering is definitely common, or you could opt for the venue's in-house team if they offer such a service. Some factors to consider in making this decision:
Is your choice of menu a relatively classic one? If it is, then choosing a venue's in-house team would be safer as they are more likely to be familiar with the kitchen.

If you are going for a specialised menu, chances are that external caterers would be more suitable.
Additionally, consider these logistical questions as well:
Does the catering team provide hospitality staff?

Is cutlery and crockery included?

Do they cater for common dietary preferences?

Can they help align their food preparation with your theme?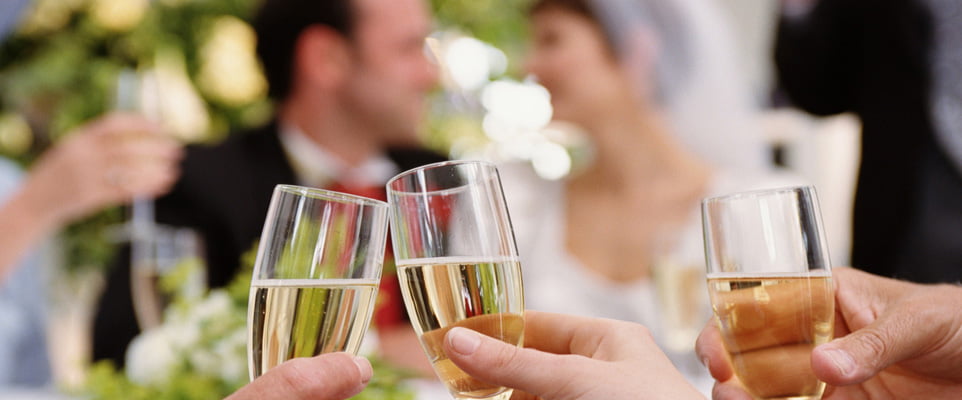 10. Drinks and Refreshments
Typically, the venue or drinks provider should be able to provide a quote for a free bar where guests will have unlimited access to soft drinks, alcoholic drinks, wine etc. Providing an unlimited bar definitely gives the ultimate guest experience.
However, if your budget does not permit this, it is common practice to at least provide wine at the table during the course of dining. You could then provide a bar where they can purchase additional beverages.
If the event is a ticketed one, an option to consider is absorbing the cost of the free bar within the ticket price.
11. Dress Code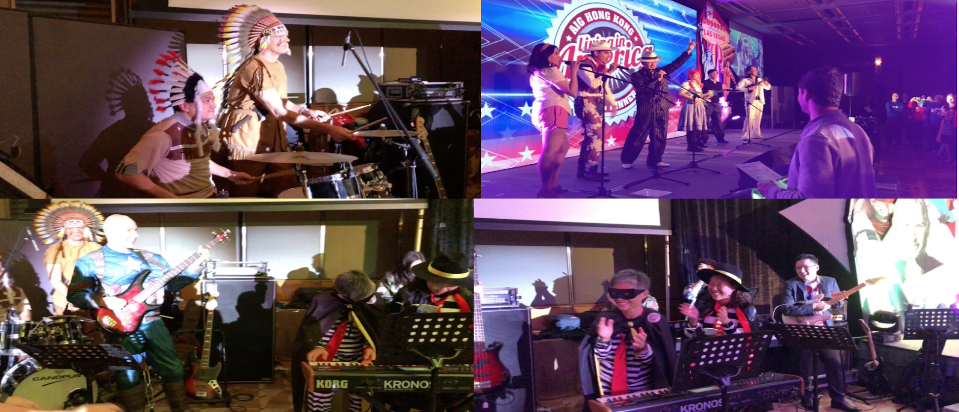 It is common practice to ensure that guests adhere strictly to the specified dress code as this helps elevate the atmosphere and overall experience of the event.
This is applicable especially in the case of slightly wackier themed events – the more effort guests put into their appearance, the more enjoyable the evening will turn out.
Once a dress code has been chosen, detail the requirements in a clear concise manner on invitations and ticketing to avoid guests arriving over or under dressed. Be sure to re-iterate this further ahead of the event!
12. The Guest List
Deciding on the guest list will depend on the purpose of the event. Be sure to include relevant groups of people, with plus ones where appropriate. Definitely make sure not to leave anyone out!
For example – if  corporate events were meant to celebrate individual or company success, it's important to invite everyone who works at the company. Omitting people from such an event can reduce company morale, and it's important to have everyone feel the benefits of company success.
Or perhaps you have been tasked with arranging an event to bring members of a local club together. In that case, be sure to invite member's partners, as well as retired or previous members of the club.
Now if the event was meant to create profit, it would be wise to invest in some external marketing to get people interested in attending the event.
Allocate some of your budget towards showcasing what your event has to offer in terms of venue, theme and entertainment. Other means of advertising would include using social media to target your specific audience, or even putting out advertisements in local papers and investing in event PR. You could also offer external companies the option of purchasing tables in bulk, and the opportunity to sponsor the event.
13. Master of Ceremony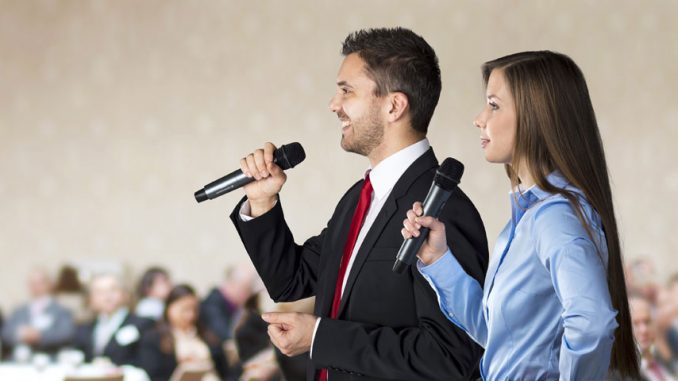 It is important to have an overall sense of direction during the event itself, so employ a master of ceremony to manage the flow of events and to maintain a high level of energy throughout the night.
The master of ceremony should be experienced and also have an approach that is in line with your overall theme. Needless to say, they should be entertaining and have excellent time-keeping abilities. Their job scope includes:
Introducing speakers for the night

Guiding guests through different sections of the event

Introducing entertainment

Alerting guests as to when dinner is served

Giving shoutouts and thanks to sponsors
14. Entertainment
Guests expect to be entertained before, during, and after dinner.
Entertainment comes in many forms, the choice of which is largely dependent on your budget. Some options include:
Live Music

Stand-up Comedy

Magicians

Circus Acts
Here at Team Music, we also offer a special service where we can train a team of your choice, to play as a band for your Dinner and Dance! This always lends itself to a sense of closeness and bonding within the company itself – guests appreciate the effort put forth by these individuals, and a joyful energy in the air can be felt when the performers put on their show.
Do ensure that your entertainment is reflective of your chosen theme, and work with the master of ceremony to integrate it seamlessly into the overall flow of the event.
15. Decorations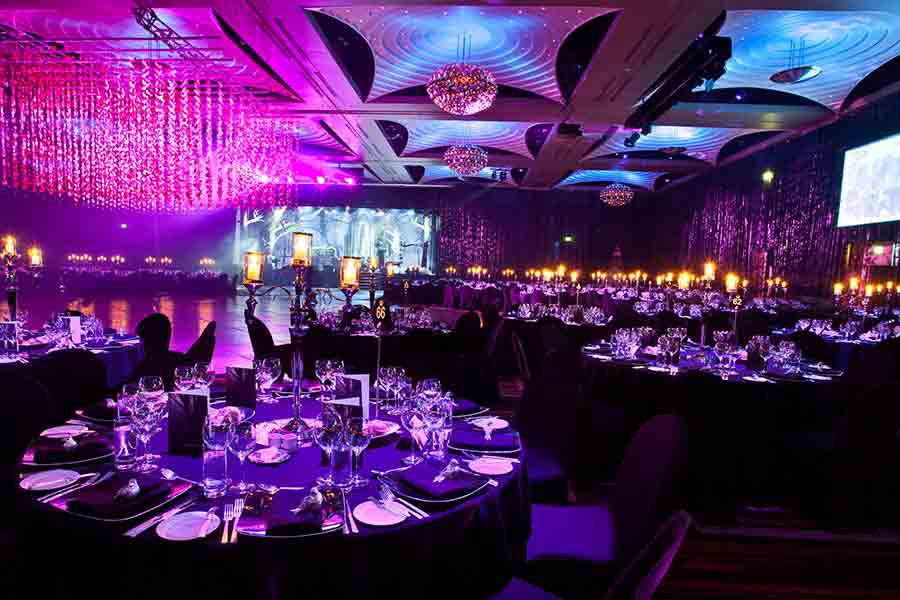 When it comes time to decorate the venue, consider your theme and how much budget you wish to allocate to the overall decor.
The venue of choice comes into play as well; a relatively plain venue would need more thought and budget into creating an immersive and memorable environment, whereas a venue that is architecturally more stunning would not require as much decorating, but may cost more to hire.
Do place high consideration towards table decorations, as this will be where guests spend majority of their time. Make these areas as attractive as possible, including things like centrepieces and table covers when planning table decor.
There is something to be said about the idea of 'human decoration' as well – are you mixing it up and putting people together who do not know each other? Or are you filling tables with people from the same departments? This has a big impact on the atmosphere of the event, and is worth thinking through.
Lastly, consider how much decoration and props you will need to bring your chosen theme to life. Under spending on a themed event's decor is never good and might result in a lacklustre atmosphere!
16. Floor Plan For Your Corporate Events 
It is good to have an eagle-eye view of the entire event venue, and having a floor plan will help you achieve that. This can help you plan out activity space for entertainment during your event, such as for BANDINC®!
Here is a sample floor plan that we use: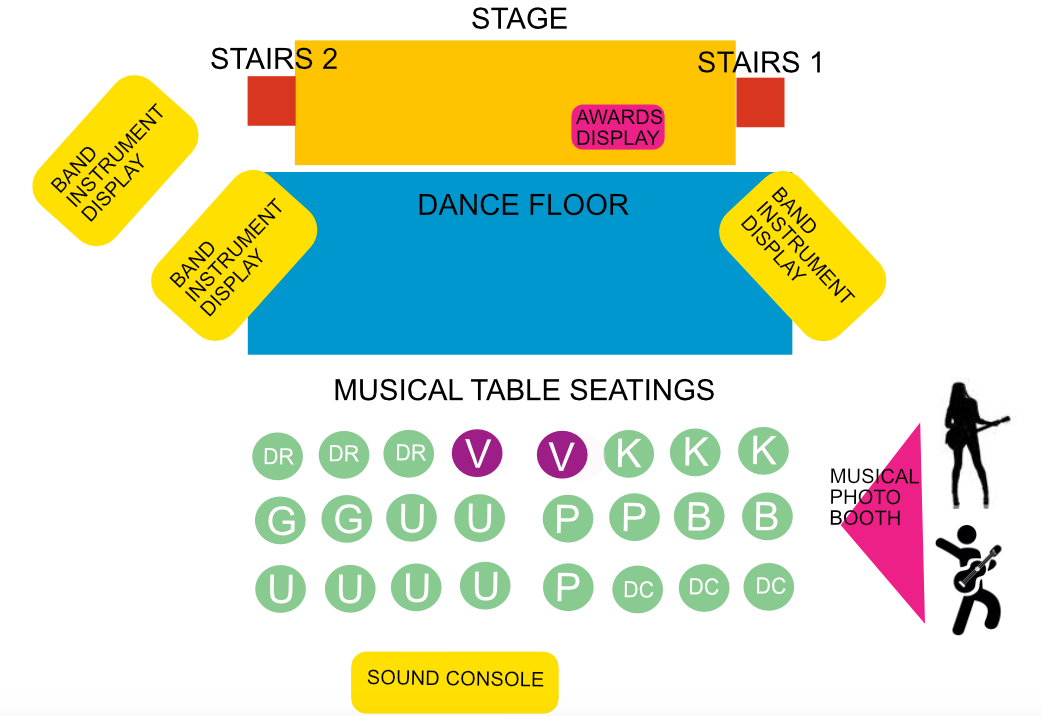 17. Table & Seating Plan
Where your guests sit during the event will make a big impact on their overall experience.
For a corporate event, there are two options to explore here:
Have them sit as per their work teams. This helps segment your guests up in a way they are used to.

Mix things up and place people with colleagues that they might not normally have contact with. This could prove to be a great way of bringing the team together!
If your event requires guests to pay, you can price more or less depending on where they want to sit. It is common practice to auction off whole tables – this allows guests to purchase a ticket for a group of people, populating the seats with their own guests.
Finally, have plenty of table plans available for viewing! While it is true that people never look at them, it is always confusing when guests are suddenly confronted by tables. As such, have table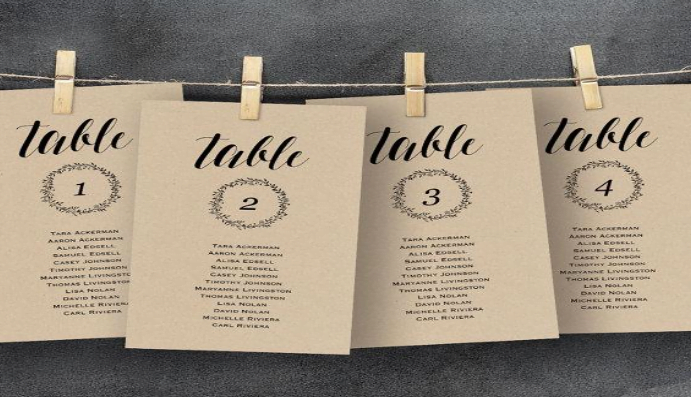 18. Transport & Logistics

Do provide your guests with detailed information regarding the company Corporate Events venue's location – this includes public transport routes and parking. If you have chosen to provide transport, include details of this within the invite/ticket.
Also, as mentioned earlier, it is important to communicate to any outsourced vendor things like directions to the venue, and available parking space for them to load any equipment.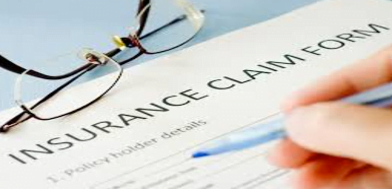 19. Event Insurance
Planning and running a successful event requires a huge amount of time, thought and money. Hence, it would be wise to cover your event for any mishaps such as:
Needing last-minute emergency staff or services due to being let down – replacement staff will likely cost more at such short notice.

Event venue cancellation.
After all that time (and money) spent on planning your event, it would be highly advisable to invest in some kind of financial protection.
20. Offer Incentives
People love incentives, so be sure to include some for those who arrive early, or purchase tickets early. You could also offer prizes and giveaways to get your guests excited.
Keep in mind that different people respond to different kinds of stimuli – so rather than having just one method of offering incentives, be multi-pronged and approach it from a few different angles.
Here are a few examples:
Offer prizes for the first fifty registrants – this is sure to get attendance for the event up from the start!

Early-bird Discount – if the event is a ticketed one, offer early purchase discounts which can be made available both for single tickets or group purchases.

Event Incentives – consider offering prizes for the first twenty through the door for example, as this encourages guests to turn up early and also increase general attendance levels.
Photo Booth
We live in a snap-happy world; every second there are 806 photos uploaded to Instagram! These days people do not want to just experience things in real life – they also want to share that experience with friends and family online.
You can take advantage of this desire to share live experiences at your event by providing photo-ready experiences at your event – having a photo booth is a great way to get guests engaged, and add variety to the evening's festivities.
Be sure to create a relevant hashtag for your Corporate events, displaying it everywhere so that guests will use it to tag their taken photos – this is bound to create a sense of buzz around the event and also makes it convenient to search for photos of the event at a later date! Here are a few examples of trendy photo-booth experiences you could provide at your event:
GIF Booth – this sort of booth puts together a series of images and video to create a short animation that you can share on social media with funny and interesting captions. GIFs have become an innovative and fun way of communicating online, and will be a novelty at your event!
2. Big Balloons – balloons, or inflatables, can create a stunning backdrop for photos when they are oversized, and the choice of color can also tie into your theme and decor for the event.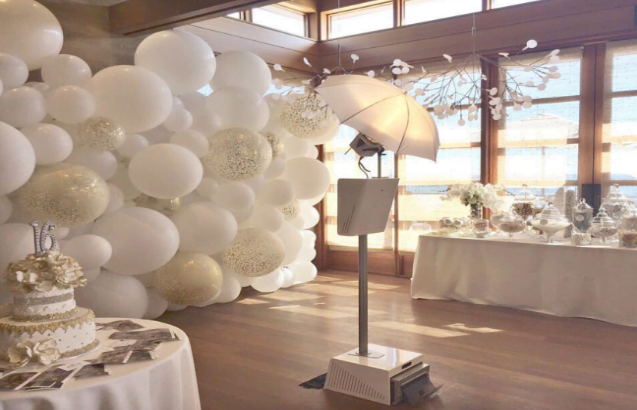 3. Frames – there is now a trend to make use of empty frames to create cool effects that range from containing event information and hashtags, to having a head-in-hole so that guests are posing with a backdrop.
Red Carpet – provide a red-carpet A-list experience for guests, by having them pose for photos on a red carpet except without having papparazi around! This definitely lends itself to having a feel of luxury for the event's proceedings.
Itinerary
A well thought-out itinerary is important to have, as it provides an overview of all the distinct moving parts in any moment during an event. When planning for this, take into account not only the time taken to do certain tasks, but also those few minutes between tasks that may seem unimportant at first glance – the amount of time required to walk between two areas of the venue for example, or the time needed to set up table decorations for a venue. Always give yourself more time than you think; it can be very stressful to have too little time to do what needs to be done during an event.
A plan, with a detailed breakdown of exactly what needs to be done, or of everything that is happening at any point of time during an event, will be extremely helpful not only for you as the event planner, but also anyone else behind the scenes during the event; whether they are helping out, giving a speech or talk.
This shared itinerary will give everyone involved confidence and goes a long way towards eliminating any potential panic on event day – knowing that you could take a look at the very detailed schedule and see where you should be and what you should be doing at any given minute is very reassuring in moments of chaos and stress; these moments, for better or worse, tend to surface on event day!
This aspect can be outsourced as well – BANDINC® provides an itinerary for clients as part of its organisational package, working closely with clients on time-allocation and role breakdowns, ensuring that an optimal 'working manual for the day' is achieved.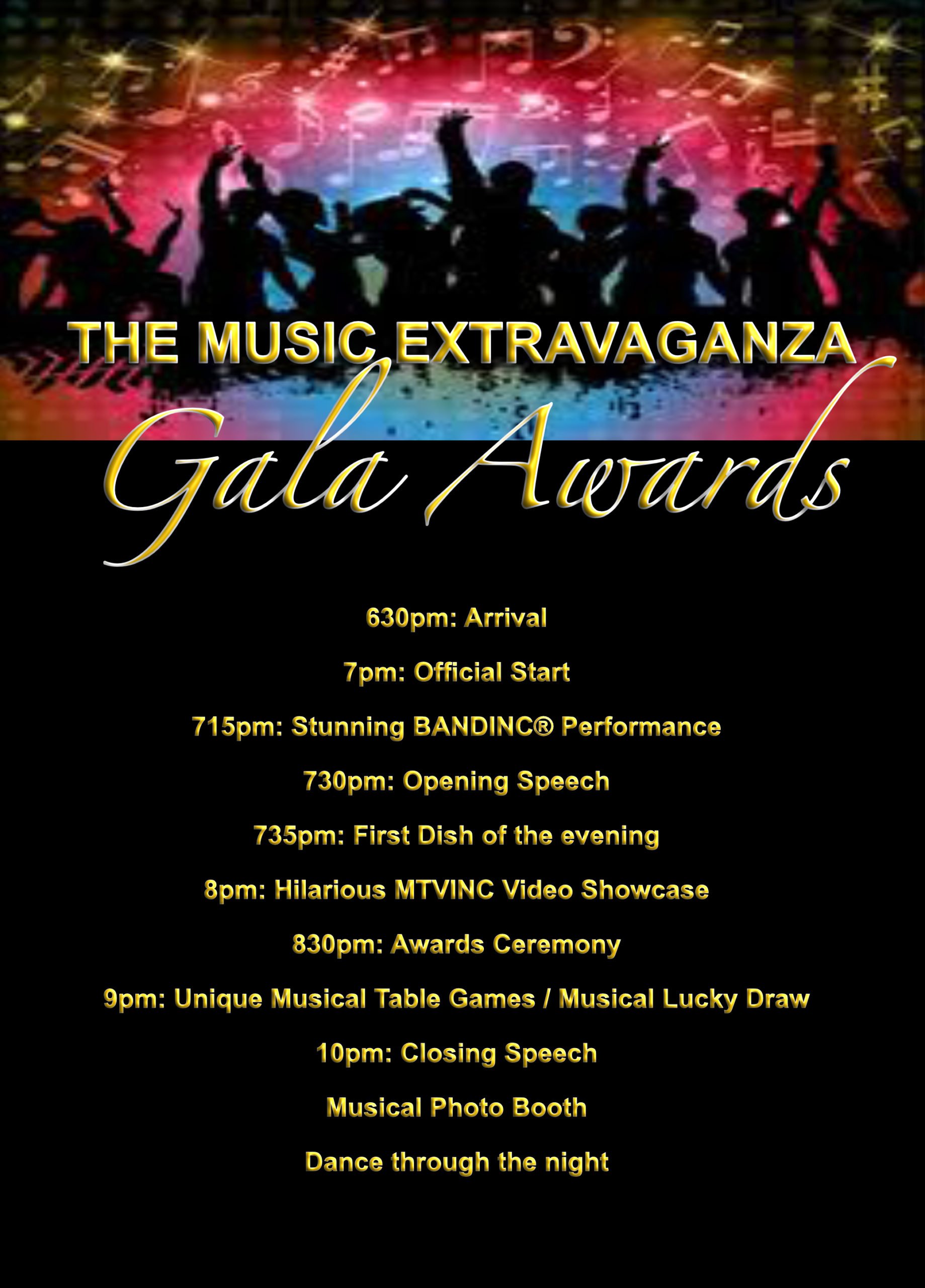 22. Software for Event Management
Event management software is important for the event planner, to keep things organised and also aid in the dissemination of information.
Make use of Google Calendar to assist in marking out important dates and deadlines, and to have a shared calendar of day-to-day activity amongst committee members. Look into Trello as well; it has strong collaborative features, and can be said to be a visual whiteboard that you and your committee can fill with post-it notes.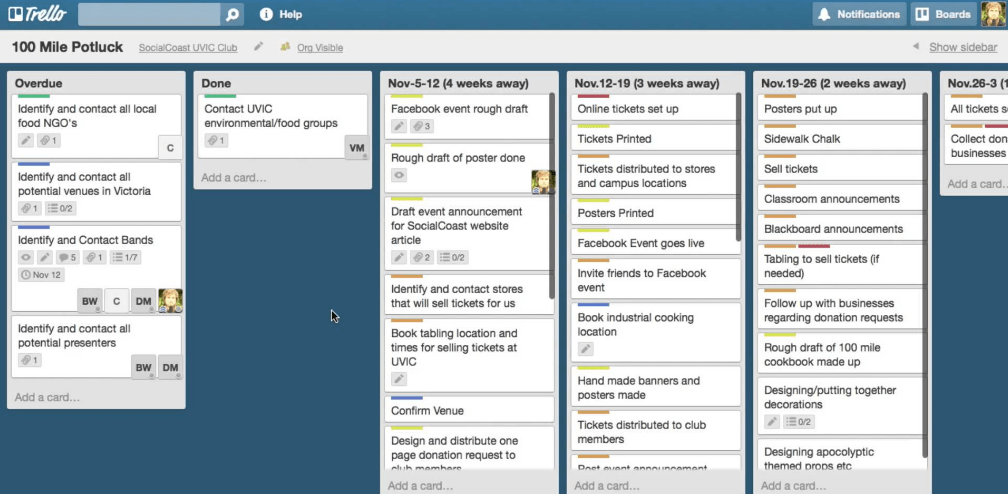 23. Door Gifts/Lucky Draw
Consider giving out door gifts and organising a lucky draw. For example, a Team Music-organised event would include lesson vouchers and instruments like ukuleles and guitars as door gifts and prizes during the event.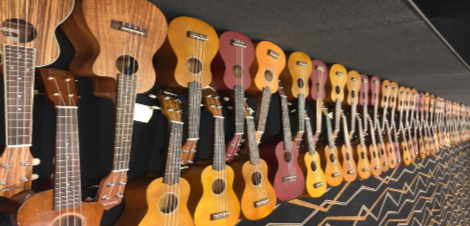 24. Table Gifts
These are great for conveying a personal message to your guests.
25. Photographer
Include a photographer in your budget so that guests will be able to look back fondly and have the memory of the evening 'etched in stone'.
26. Networking
If the event is corporate in nature, encourage networking by hosting a post-event drinks session; consider using a private party venue for an 'after-party'.
27. Publicity
Take full advantage of technology and social media in event planning. Keep in mind that your event will have a specific target audience, so use only appropriate social media channels. For example, if it is a corporate event, it would be good to use Facebook as opposed to Instagram or Snapchat for your marketing.
28. Create Promotional Clip
Consider hiring a studio to create a promotional clip for you. Otherwise, try creating your own promotional material – these days smartphone cameras are good enough to record quality video. Promotional clips help make events more inviting and create a build-up to the actual day.
Conclusion:
Corporate events in Singapore are difficult to run successfully and smoothly, while still ensuring that goals and objectives are met and aligned with company direction. Follow this guide in confidence and be well on your way to becoming an event planning guru!